We are only too happy to show you our Lobbysign digital display systems without any obligation.
If you are interested in seeing what a Lobbysign Dot Matrix LED or LCD sign looks like in your office reception or lobby, we can bring a sign into your building to show you and your colleagues how it looks and how it works in situ.
The demonstration itself lasts for about 15 minutes, no matter which Dot Matrix LED or LCD sign it is or whether it is a free standing or a wall mounted display.
Please allow about 5 minutes or so to set up the equipment and 5 minutes at the end to dismantle and pack away. We do not need any assistance in setting up, just reasonable access to your office from a car, and a 13amp wall socket.
If you would like to arrange a no obligation demonstration, please just drop us an email or telephone us with your contact details and we will be straight back in touch with you to set a date.

If you would like further information, brochures or a demonstration on our Lobbysign LED and LCD displays, please contact us using the following details:
Tel: 020 7736 6747
Email:  info@@lobby-sign.co.uk
Thank you for considering Lobby

sign

Digital Signage.
LCD or Dot Matrix LED
What is the difference?
Both the Lobbysign LCD and Dot Matrix LED signs are incredibly effective at communicating your message simply and quickly.
However, depending on your specific needs and  requirements, one system will be more suitable.
Whatever choice of display you would like to see, we can arrange a comprehensive demonstration at a time and place that suits you.

Lobbysign LCD signs
LCD screens, despite being everywhere in our lives, are different when it comes to the Lobbysign LCD display board. The Lobbysign LCD display is in a unique portrait style and housing. Notices and messages on the Lobbysign LCD display are supported and enhanced by images and video clips, giving the Lobbysign greater impact than other LCD screens, especially when compared to televisions that are used as signs.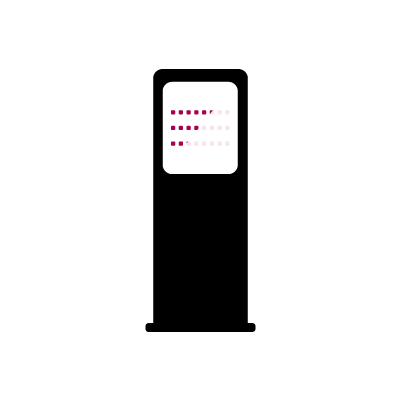 Lobbysign Dot Matrix LED signs
The Lobbysign Dot Matrix LED sign uses a dot matrix format to display high impact text. The Lobbysign Dot Matrix LED sign is bright, eye-catching and, although elegant, looks like a sign to communicate – which in itself is a good enough reason why it draws peoples' attention. People do look for information, but they want it to be quick and simple, which is why the Lobbysign Dot Matrix LED works so effectively.
Lobby
sign

digital signs require no regular maintenance and are highly durable and reliable thanks to the use of the highest quality components.
Technological peace of mind is ensured by our professional back-up team, with it's quick response, expertise and unrivalled after-sales service.