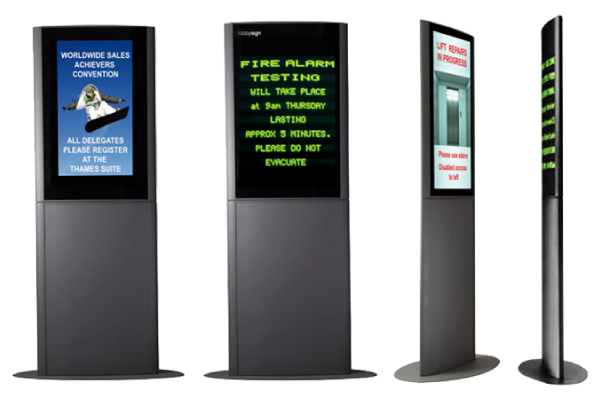 Lobbysign Dot Matrix LED and LCD digital signage is integral, elegant and a professional addition.
Hotels & Conferences
Lobbysign Dot Matrix LED and LCD digital signage is integral, elegant and professional addition.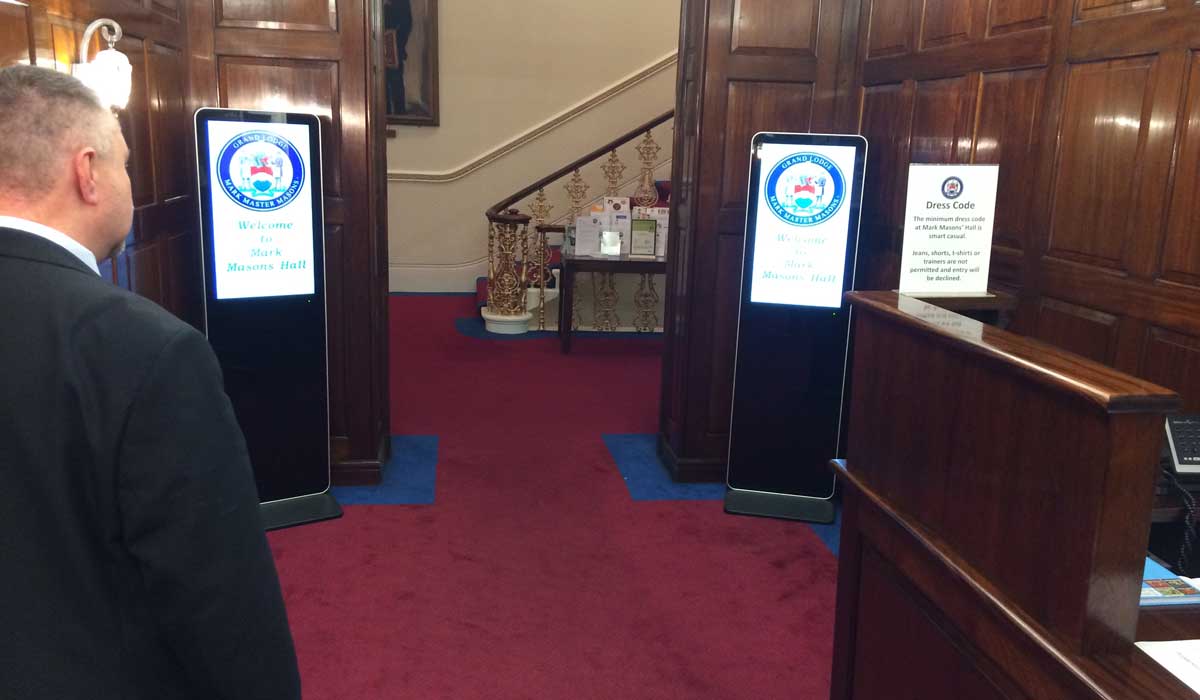 Hotel Groups, independent hotels and conference venues are constantly using Lobbysign LED and LCD signage, and replacing manual, time consuming and low impact letter boards. The free standing and wall mounted electronic signs simply communicate information more effectively in reception or lobby areas.
Hotel notices, promotions, meeting room information, weddings, functions and events are the kinds of information that are easily set up on Lobby sign displays, combined with hotel or client supplied images. Scheduled notices appear at precise times, ensuring that your guests and delegates are drawn to the LED or LCD display board and correctly informed.
Hotels and conference centres can offer the facility to their clients to display their own messages on the Lobbysign displays. On the LED sign sequences of pages showing the day's agenda with meetings and breaks can be scheduled using the wireless keyboard, whilst on the Lobbysign LCD screens, similar information is enhanced with images and corporate logos, simply uploaded by memory stick or pc.
Lobbysign Free standing and wall mounted signs, have become, like furniture, an integral part of the hotel reception. Its elegant appearance makes Lobbysign LED or LCD sign look elegant and professional in both contemporary and traditional hotel lobbies.
In even the small hotel reception, there is a place for the wall mounted Lobbysign LED or LCD sign board, whose actual display screen remains the same size as that of the free standing totem displays. Instead, the wall mounted sign fits neatly on a bracket, which can position the screen at an angle or flat against a wall. Once again hotel guests and delegates are drawn to the Lobbysign wall mounted sign becuase of its portrait nature.