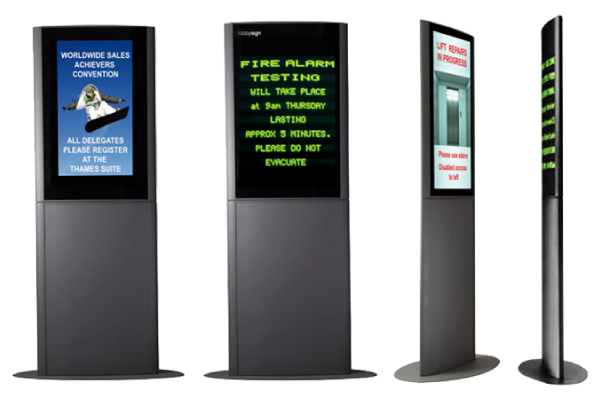 Digital signage is effective at drawing people's attention and actually communicating information.
Schools and Colleges
Digital signage is effective at drawing
people's attention and actually
communicating information.
Schools, nurseries and colleges are moving towards free standing or wall mounted digital signage for communicating notices, messages, and bulletins. Lobbysign Slim freestanding digital signs, which are at head height, are now proving more effective than ever at drawing and holding people's attention. This is especially so in reception, where visitors and parents are made to feel more welcome and better informed.
Information on Lobbysign electronic signs, using high quality images, text and video clips, is conveyed to everyone associated with the school: parents, visitors, teachers and pupils. Parents evenings, events, welcoming messages, sports day, school plays, teacher changes, bulletins, staff notices, child health issues and parental responsibilities are all displayed with visual brilliance and great effectiveness.
Appearance and Positioning
The design of the Lobbysign screens fits well into virtually any school environment. The sleek appearance of Lobbysign electronic welcome board gives a good first impression in the school reception. Each Lobbysign free standing totem is moveable and has a contemporary feel. In reception, its position is usually either near the entrance or set back, giving greatest possible impact to viewers both close-up and at a distance. In the smallest receptions of schools and nurseries there is usually a place, if not for the free standing Lobbysign Slim, for the wall mounted display board, which fits neatly on a bracket against a wall.
Locations in Schools
In areas of the school where staff and the pupils pass through corridors and walkways Lobbysign LED or LCD digital signage will get across messages in the second or two of time needed to grasp of its passing traffic. In locations such as the refectory, assembly hall, staff room, sports centre or learning centre where the digital signs have a captive audience, the Lobbysign electronic board holds the attention of students and staff, then communicates continuous notices and information with unrivalled impact.