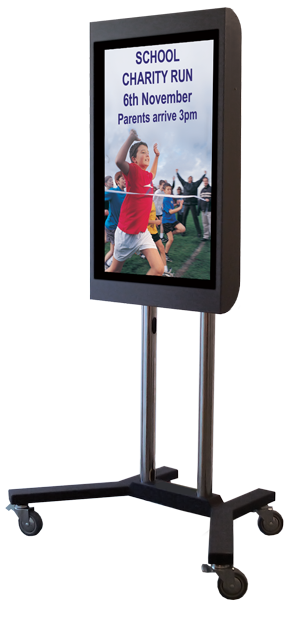 Combines high technology and contemporary elegance to project images and text for maximum impact and communication
Wheelysign digital signs
Combines high technology and contemporary elegance to project images and text for maximum impact and communication.
£2,690 + VAT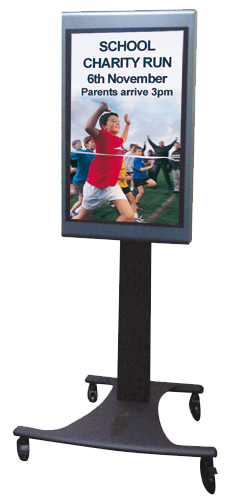 Wheelysign digital signage for interior and exterior use.
The high impact Wheelysign LCD display is the ultimate versatile electronic notice board, easily moveable on wheels. It communicates simply and effectively at precisely where you want your messages read – whether these be notices, bulletins, important updates, urgent announcements or welcome and greeting messages.
Being a portrait style information screen, the IP rated weatherproof Wheelysign can be manoeuvred under doorways and along corridors, wheeled into lifts, and moved from indoors to outside.
As with the Lobbysign free standing totem and wall mounted displays, the typical location for the Wheelysign would be the primary and secondary school, college, university, airports, hotel, business and council including leisure centre, town hall and library. The ability to wheel this digital sign around conference venues gives it unparalleled flexibilty.
The Wheelysign has many other uses, for example at exhibitions or events, as it is so easy to move and transport. It can be quickly dismantled into three sections – the screen, the solid supporting rods and the base on wheels, making it simple to load in any car or vehicle. Re-assembly takes little time.
The Wheelysign is solid, robust and professional.

Screen Impact
The Wheelysign LCD display board is both a sign and a screen. It gives unique impact to all kinds of information and images displayed. The captivating "Portrait" format of the LCD display inside the housing, by its nature, focuses peoples' attention, and makes reading text or viewing images and video clips appealing.
Using exactly the same screen technology, wireless keyboard and software as the Lobbysign LCD digital signs, the Wheelysign LCD electronic display, with its own inbuilt pc, captures the attention of visitors, staff or passers by. Bespoke and dynamic sequences of pages appear with text either on different coloured backgrounds or blended with any choice of images.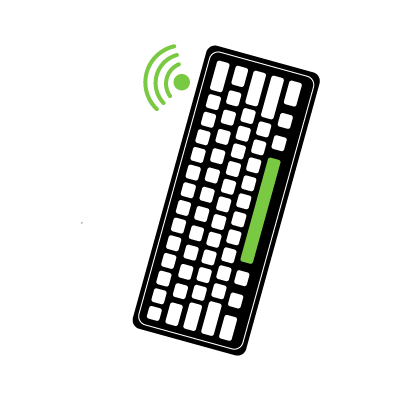 Easy to operate by office staff
The wireless keyboard – incorporating a rollerball mouse – is designed to be used by non technical staff, and information and notices can be up and running within a few minutes.
The simplicity of creating new messages on the Wheelysign saves considerable operator time and eliminates frustration.
The Wheelysign simply plugs into a mains socket, either internally or externally, and the messages are easily typed and stored. Electronic images can be loaded by memory stick into a USB port, and selected by the operator with or without overlaid text messages. The sequence can be interrupted, then new messages easily be created with our user friendly software. Other images may be selected or scheduled to come on then go off at specific times.
Programme inside – display outside
The Wheelysign has the huge advantage that it can be programmed inside your building, in comfort, then wheeled outside to display its messages to your audience. It simply plugs into an external power socket.
Technology and service
Using the latest display and PC technology, the Wheelysign LCD is versatile and requires no regular maintenance. The entire system is highly durable using only top grade components and all our equipment is rigorously tested prior to leaving our factory to ensure maximum reliability. Peace of mind is ensured by our professional back-up team and almost 30 years of expertise and unrivalled after-sales service in the visual communications industry.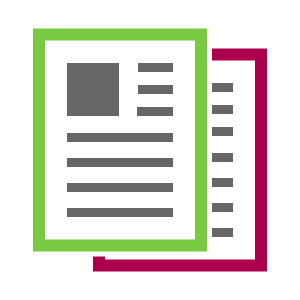 Wheely
sign

LCD display technical specifications
| | |
| --- | --- |
| Overall Height: | Adjustable: 1700mm to 2150mm |
| Base dimensions: | D 705mm W 1050mm |
| Display dimensions: | H 1040mm W 606mm D 100mm |
| Screen size: | 37" |
| Screen resolution: | 1080 x 1920 |
| Brightness: | 500 |
| Contrast: | 1500:1 |
| PC Motherboard: | ASUS M5A78L-ME with with dual core AMD processor 2gHz Integrated graphics |
| Hard drive: | 80 gb |
| Software: | Windows operating system with custom Lobbysign software |
| Ports: | 2 x USB and 1 x network and 1 x 3.5mm stereo jack output |
| Keyboard: | long range wireless |
| Image storage | over 1000 |
| Op temp: | -5C - 50C |
| Power consumption | 220v AC - 150w screen, 25w pc |
| Image loading | via memory stick or network |
| Options | Media player, inbuilt sound, networking |
Wheely
sign

LED display technical specifications
Overall Height:

Adjustable: 1700mm to 2150mm

Base dimensions:

D 705mm W 1050mm

Character type:

LED (light emitting diode) green, red, white

Character matrix

:
7 x 5

Character height

:
30mm

Viewing distance

:
up to 35 metres
Lines on display:
8
Display characters:
160
Storage:

100 pages of 8 lines x 20 characters per line

Scheduling:

time & date

Fonts:

Standard upper/lower case and bold

Operation

:

Infrared keyboard / PC RS232 standard. Via network, as additional option.

Option:

Full colour logo printed on film, fitted to top of display (logo is replacable)

Power Consumption:

220v AC - 30w max