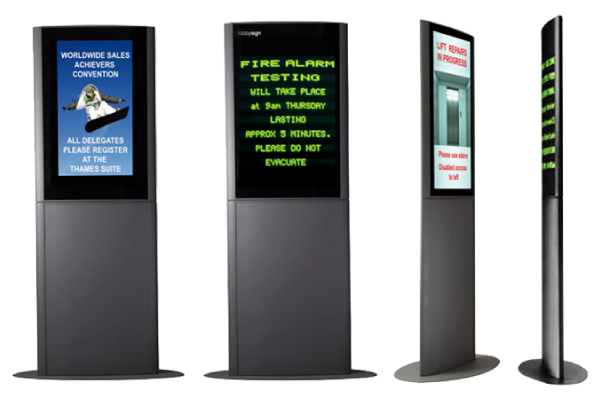 Lobbysign Dot Matrix LED and LCD digital signage imparts information quickly and clearly.
University Campuses
Lobbysign Dot Matrix LED and LCD digital signage imparts information quickly and clearly.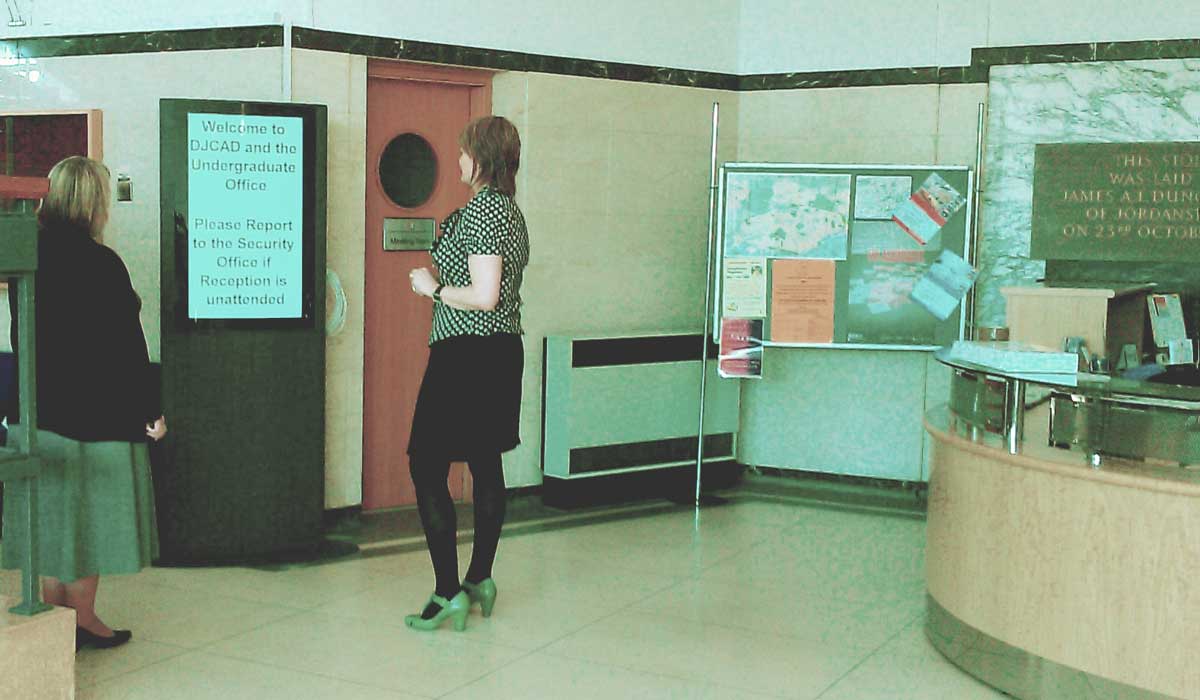 In university reception areas, the use of the Lobbysign electronic sign has become more widespread, replacing the peg board, easel, poster, white board, pc and tv in communicating important messages and notices to students. The Lobbyign also compliments existing wall plasma televisions, which are more likely to be showing normal tv or video rather than communicating information.
Throughout the university campus, the Lobbysign LCD or LED display is recognised as a sign, designed specifically to get across messages and information with simplicity and impact. The text is bold, clear and easily read by students on all Lobbysign displays, to the extent that even the most disinterested eye is drawn to its notices.
Lobbysign free standing and wall mounted digital signs using LED and LCD screen technology have been introduced to communicate enrolment information, student notices, important messages and announcements in building entrances throughout the university campus such as main reception, specialist departments, the library, sports centre, or theatre/arts lobbies.
The Lobbysign LED display uses a dot matrix format to display high impact text, whilst on the Lobbysign LCD notices and announcements are supported by images and video clips. The portrait design of Lobbysign screens enhances visual communications in virtually any university environment, and ensures that students get essential information.
The elegant appearance of Lobbysign electronic welcome boards gives a good first impression in university reception areas. The Lobbysign free standing totem has a contemporary feel, and its position is usually either near the entrance or set back in the reception, giving greatest possible impact to viewers both close up and at a distance.
In even the smaller or unattended reception, there is a place for the wall mounted Lobbysign display board, whose actual LED or LCD screen, contained within the display, remains the same size as that of the free standing displays. Instead, the wall mounted sign fits neatly on a bracket, and can either be angled or positioned flat against a wall.
Where students pass through corridors and walkways Lobbysign LED or LCD digital signage will get across particularly important messages in the second or two of time needed to grasp the attention of passers by. In areas such as refectories and libraries, where the digital signs have a captive audience, the portrait style Lobbysign board holds the attention, then communicates continuous notices and information with unrivalled impact.