Libraries
Lobbysign Dot Matrix LED and LCD digital signage communicates more effectively.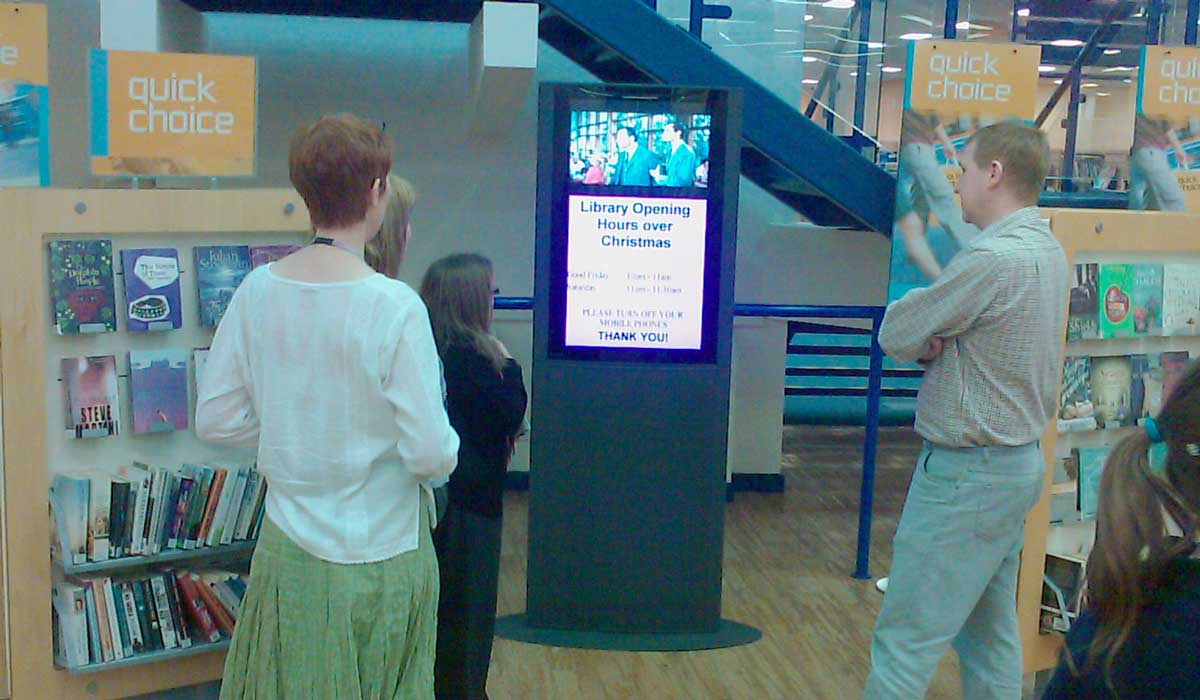 Public libraries and university libraries use Lobbysign LED and LCD digital signage to get across important library notices, thereby replacing time consuming and low impact letter boards and white boards for displaying and updating information. In the library entrance, reception area or open plan foyer, Lobbysign free standing and wall mounted electronic signs simply communicate more effectively than other manual systems.
Opening hours, notices about loan books, overdue books and library membership, regulations such as no food or switched on mobile phones allowed, news about improved study areas or IT services, membership card schemes, and messages requesting feedback and comments, are but few of the kinds of information that are easily set up on Lobbysign displays in university and public libraries.
Scheduled notices appear at precise times, ensuring that visitors or students are drawn to the LED or LCD display board and correctly informed. In the second or two it takes to grasp people's attention on the sign, sequences of pages using bright, high impact LED text grip the attention of the passers by, whilst on Lobbysign LCD screens, a similar messages are enhanced with the use of images, graphics and video clips, which are all simply uploaded by memory stick or pc.
The Lobbysign free standing and wall mounted sign, has become, like furniture, an integral part of the library foyer. Its sleek appearance makes Lobbysign LED or LCD sign look elegant and professional in both contemporary and traditional library environments.
Where space is limited or awkward, there is a place for the wall mounted Lobbysign LED or LCD sign board, whose actual display screen remains the same size as that of the free standing totem displays. Instead, the wall mounted sign fits neatly on a bracket, which can position the screen at an angle or flat against a wall. Once again students and the public are drawn to the Lobbysign wall mounted sign becuase of its portrait nature.